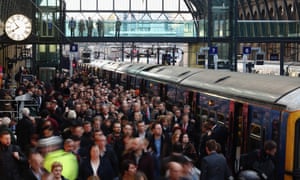 Train fares in Britain will go up by an average of 3.4% from 2nd January.
The increase, the biggest since 2013, covers regulated fares, which includes season tickets, and unregulated fares, such as off-peak leisure tickets. The Rail Delivery Group admitted it was a "significant" rise, but said that more than 97% of fare income went back into improving and running the railway. A passenger group said the rise was "a chill wind" and the RMT union called it a "kick in the teeth" for travellers. The rise in regulated fares had already been capped at July's Retail Prices Index inflation rate of 3.6%. The fare increase is above the latest Consumer Prices Index inflation figure of 3%, which was a five-and-a-half year high. The average rise in Scotland is 3.2% – below the national average. A Scotrail spokesman told the BBC that 85% of their revenue comes from fares regulated by the Scottish government. He added:
We are investing millions of pounds to build the best railway Scotland has ever had, and that's why we remain the best performing large operator in the UK.
The chief executive of passenger watchdog Transport Focus, Anthony Smith, said: "While substantial, welcome investment in new trains and improved track and signals is continuing, passengers are still seeing the basic promises made by the rail industry broken on too many days." One in nine trains (12%) has arrived late at its destination in the past 12 months. The Rail, Maritime and Transport (RMT) union general secretary Mick Cash said: "These fare increases are another twist of the economic knife.
The private train companies are laughing all the way to the bank.
A Department for Transport spokesperson said: "The government carefully monitors how rail fares and average earnings change and keeps the way fare levels are calculated under review.
We are investing in the biggest rail modernisation programme for over a century to improve services for passengers – providing faster and better trains with more seats.
Paul Plummer, Rail Delivery Group chief executive, told the BBC's Today programme: "We are very aware of the pressures on people and the state of the economy and are making sure everything we do is looking to improve and change and make the best use of that money." Mr Plummer admitted it was "a significant increase" in fares – the highest since they rose by 3.9% in January 2013. Figures published by the Office of Rail and Road in October showed that £4.2bn was given to the rail industry in 2016-17 – a drop of nearly 13% on the previous year, taking inflation into account. The Rail Delivery Group said that private investment in rail reached a record £925m in 2016-17.