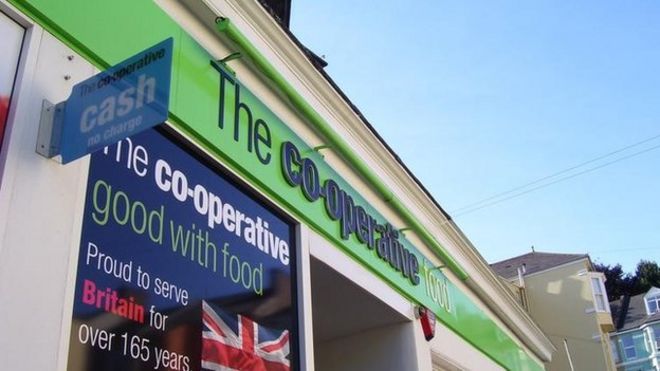 The Co-operative Group has revealed it made a profit of £124m in 2014 compared with a loss of £255m the previous year.
It said its food and funerals business had performed "robustly", with same-store sales in food up 0.4%, but its insurance business had lost money.
Last year, the Co-op recorded a net loss of £2.3bn, once one-off losses relating to its bank and its then-owned Somerfield business were taken into account.
It was forced to divest itself of a large chunk of the bank to a number of private investors, largely hedge funds, and now owns just 20% of that business.
Since then the Co-op has begun a three-year plan to steady the business after deep problems emerged in 2013 with its bank, which it has since largely sold off. In the past year, it has sold its pharmacy chain and farms raising £216m.
Chief executive Richard Pennycock said without the proceeds of the sales the group would have, "at best, broken even".He said the organisation had made good progress reducing its costs, which had fallen from £176m to £146m and it had also cut its debts from £1.4bn to £808m.
Co-op Group chairman Allan Leighton told the BBC that business was thriving despite intense competition from discount stores, such as Aldi.
We can compete on more than price. We're not a discounter, we're very focused on the convenience sector and we're doing pretty well in this area. We're about fresh food and availability and we have fabulous staff in our stores that provide a service no-one else can.
But despite the improving performance, the business warned it would not be paying a dividend to its members until 2018.