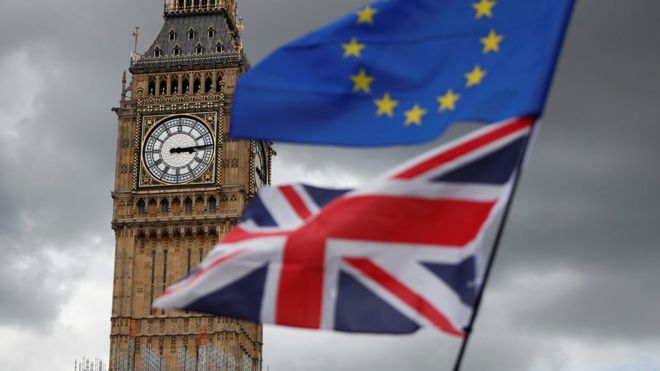 By Kamal Ahmed;  BBC economics editor
Britain should prepare for a much more economically optimistic 2018 because global growth is better than predicted.
That's the argument of Lord Jim O'Neill, the former Conservative Treasury minister and Remain supporter. He said Britain's growth forecasts are likely to be upgraded as China, the US and Europe show increased activity. The gloomy predictions of the possible effects of Brexit are likely to be "dwarfed" by the more positive figures, Lord O'Neill added. But he argued that far from "changing his mind" on the economic effects of Brexit, the question now for the UK was how much better the country could be doing without the uncertainty over its relationship with the European Union.
I certainly wouldn't have thought the UK economy would be as robust as it currently seems,
Lord O'Neill, who is on the board of the Northern Powerhouse Partnership, told me."That is because some parts of the country, led by the North West [of England], are actually doing way better than people seem to realise or appreciate. "As well as this crucial fact, the rest of the world is also doing way better than many people would have thought a year ago, so it makes it easier for the UK." I asked him whether his optimistic forecasts now revealed that he, and many economists, had simply been too pessimistic about the effects of a Brexit vote. "I'm almost embarrassed to accept that it might sound like that," Lord O'Neill replied. "Because of course, in principle, I share the views of many that Brexit is a really weird thing for the UK to impose on itself from an economic perspective. "And maybe this [better global growth] means the country's going to be able to cope with Brexit better than certainly somebody like me might have thought some time ago.
"But I would quickly add at the same time, I have felt for a good couple of years, as important as Brexit is, it isn't the most important thing facing Britain's future." He said that global growth, better productivity and rebalancing government policies to support the north of England and other regions beyond London was much more important. There was some evidence, Lord O'Neill argued, that was now happening. He said that the "Brexiteers are going to be like the cat with the cream. They're like 'there you go, told you so', which of course is ridiculous". Lord O'Neill said that major sectors of the economy that are closely linked to the EU, such as car manufacturing and pharmaceuticals, were still facing significant threats because of the government's proposals to leave the customs union and the single market.
Over the past six months economic forecasts have become more bullish on world growth. China, the US and Germany have all published strong economic data and last autumn the International Monetary Fund upgraded its global predictions. "I'm guessing world GDP growth of at least 4%, so a good half percent higher than the consensus is currently saying – and signs of it actually accelerating," Lord O'Neill said. "Virtually every major place I can think of, [with the] possible exception of us, are all sharing in it at the same time. World trade – just when everybody's trying to write it off – has actually risen sharply." He said that President Donald Trump's reforms of the tax system and plans to loosen regulatory controls would boost the US economy. "The secular stagnation that the likes of Larry Summers [the former US Treasury Secretary] have talked about for a few years looks suspiciously dodgy. I would imagine that the idea is going to be back tracked pretty quickly now."