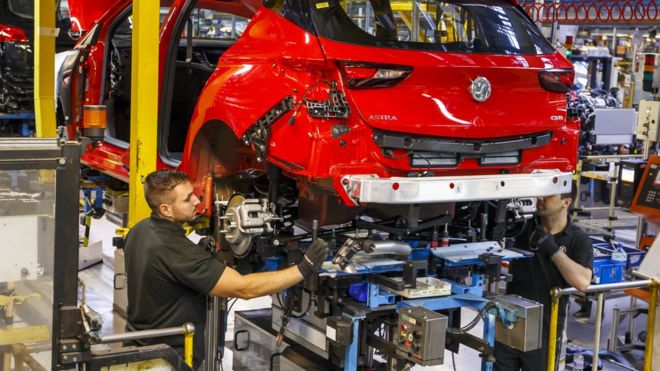 Talks between Britain's biggest union and Vauxhall's French owner PSA Group were "frank" but useful, the sides say.
Unite head Len McCluskey was in Paris for a meeting with PSA chief executive Carlos Tavares about the future of Vauxhall's Ellesmere Port factory. Mr McCluskey wants more investment in Ellesmere to protect jobs. It follows more jobs cuts at Ellesmere this month. In separate statements, the two sides agreed to further talks to establish a "roadmap" for Ellesmere's future. PSA, which also owns Peugeot and Citroen, said last year that it wants to build the new Astra model at Ellesmere. But that has not eased worries about the plant's future.
The company said this month that another 250 jobs could go at Vauxhall. Those cuts were on top of 400 redundancies announced last year, and come amid warnings that Ellesmere Port must cut costs to improve efficiency. After the meeting on Monday morning, Mr McCluskey said the meeting was "helpful", adding:
We had a frank exchange and are now clear on our respective positions.
"Carlos Tavares repeated his desire not to close UK plants, which is reassuring. He also talked of working with Unite to construct a roadmap for future operations in the UK, again encouraging. "On behalf of Unite, I repeated our determination to safeguard the UK plants and if needs be our willingness to disrupt PSA's UK market share if the company fails to support this loyal workforce." Mr McCluskey said he remained "optimistic" that the two sides could "work constructively". But he acknowledged that Brexit had caused "uncertainty and confusion" at PSA. Meanwhile, PSA said the meeting was a chance "to establish a frank and constructive dialogue in order to study how to regain the competitiveness of the Vauxhall manufacturing sites in the UK". He said Unite's support "for this process is essential to rebuild the Vauxhall industrial footprint". Further meetings would be held, the two sides said.
Earlier on Monday, in a comment piece for the Liverpool Echo ahead of the meeting, Mr McCluskey said the union needed "to be ready for the fight of our lives to keep world-class car making on Merseyside." Last week, at the Detroit Motor Show, Mr Tavares told reporters of the need to improve the efficiency of its UK plants. He said:
What counts is to bring [UK] plants to the level of cost and quality that is the same as continental Europe.
Vauxhall employs about 4,500 people in the UK, with about 1,800 at Ellesmere Port. The company also has a factory at Luton, which makes vans. In August last year, PSA became Europe's second-biggest carmaker, after Volkswagen, when it completed the purchase of Vauxhall and German brand Opel from General Motors.