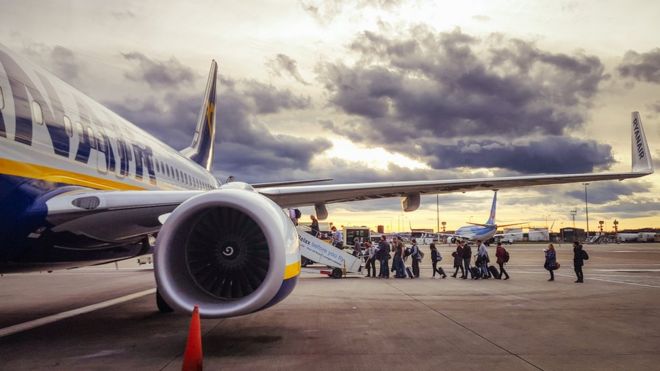 Ryanair is to close its base at Glasgow Airport, warning that 300 jobs could go as a result.
The airline, which also operates out of Prestwick, Edinburgh and Aberdeen, will cut the number of routes out of Glasgow from 23 to just three. Chief commercial officer David O'Brien blamed the change on the cost of air passenger duty and said Glasgow "simply could not bear the burden". Glasgow Airport said it was "bitterly disappointed" by Ryanair's decision. A spokesman for the airport said there was "no doubt" that the failure to replace air passenger duty (APD) with a cheaper air departure tax (ADT) in Scotland was behind the move. Ryanair made the announcement as it unveiled its schedule for winter 2018, confirming that only its services to Dublin, Wroclaw and Krakow would continue from Glasgow. The company said 11 new routes would be added to its Edinburgh schedule.
Into the ether
Mr O'Brien said: "Sadly the weaker Scottish market is even weaker still in Glasgow which simply can't bare the burden of APD at £13. "This should not come as a surprise to the government, we did say that our growth in Glasgow was based on their promise to abolish APD, which morphed into a promise to half APD which suddenly has disappeared into the ether and quite frankly we don't have any more patience, there are other markets in the UK and Europe which offer a more compelling proposition." Mr O'Brien added: "Passengers mean jobs and around 500,000 passengers will be lost at Glasgow, pressurising around 300 jobs which will probably be lost.
The flipside is that you're looking at around 700 jobs being introduced to Edinburgh.
Mr O'Brien also said that Brexit was a threat to Scottish tourism and the airline industry in general. The Scottish government unveiled plans to replace air passenger duty with a cheaper air departure tax in 2017. However, they have yet to be implemented and legal issues because they require EU approval under state aid rules.
Stark scenario
A spokesman for Glasgow Airport said: "We are bitterly disappointed at this decision by Ryanair which is not only damaging for Glasgow and wider Scottish connectivity, it will impact approximately 100 jobs locally. "This is a result of the airline's review of its single aircraft bases, however, we have been left in no doubt it is also a consequence of the Scottish government's inability to introduce its proposed 50% cut in air departure tax. "Despite clear and repeated warnings from both airports and airlines about the potential impact of this policy not being implemented, we are now faced with a stark scenario that includes the loss of 20 services and a significant number of jobs." The spokesman said capacity would continue to be reallocated elsewhere until there was movement on ADT. In future Ryanair will host 45 routes from Edinburgh, including the 11 new routes. The airline's summer schedule will operate as planned out of Glasgow. Ryanair opened its base at Glasgow Airport in autumn 2014, one of several new bases opened across Europe that year. At the time it said it remained committed to Prestwick Airport and would continue to offer flights from there.