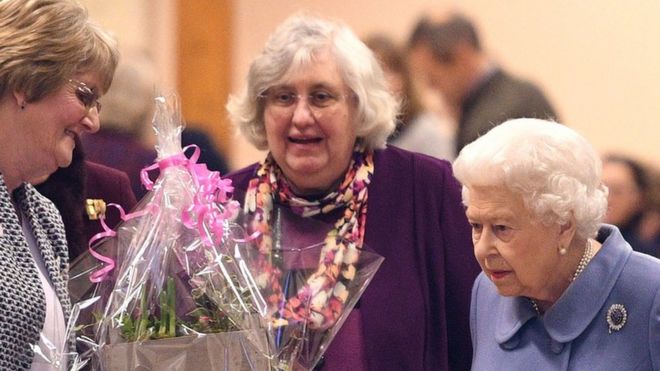 The Queen has urged people to find "common ground" and to respect "different points of view".
Commentators say the remarks will be seen as referring to the Brexit debate, with MPs due to vote on the PM's deal for leaving the EU again next week.
MPs rejected the deal last week but the UK will leave on 29 March with no deal unless they can agree on a way forward.
BBC royal correspondent Nicholas Witchell said there was little doubt the Queen was "sending a message"
"It is impossible to imagine that the head of state would use a construction of words such as this without it being appreciated that they would be seen as a reference to the current political debate," he said.
Her words echoed the theme of her Christmas broadcast, our correspondent added.
Chancellor Philip Hammond said there was "huge wisdom" in the Queen's remarks.
He told Radio 4's Today programme: "I don't think anybody will be at all surprised to hear the Queen advocating the view that in all things controversial we should seek compromise, we should seek common ground, we should seek a way forward."
The Queen also received praise from other cabinet ministers – including Health Secretary Matt Hancock and Work and Pensions Secretary Amber Rudd, who called them "wise words".
Theresa May's official spokesman declined to comment directly on the Queen's remarks. He said: "The prime minister's own view is that we should always show great respect for the point of view of others."