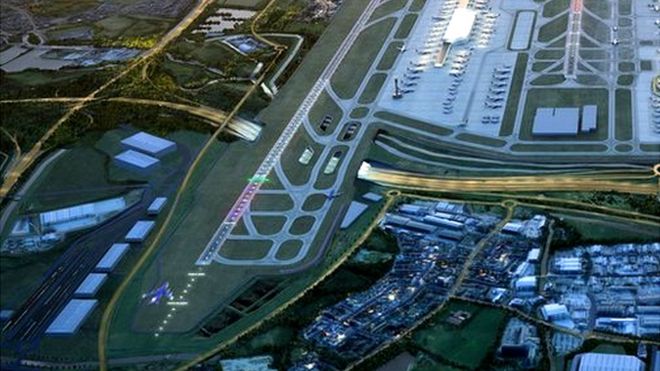 Heathrow Airport will construct a third runway by 2026 and complete its expansion by 2050, according to its "masterplan" published on Tuesday. The plan includes diverting rivers, moving roads and rerouting the M25 through a tunnel under the new runway. Heathrow's expansion has faced fierce opposition, but the airport says it has engaged with local communities and other stakeholders. The proposals are now open to public consultation until 13 September.
The masterplan is illustrated in a visualisation from the architects, showing the M25 running in a tunnel underneath the new runway. It proposes a staggered approach with the new runway to be built in the first phase by 2026, with the rest of the airport infrastructure – including new terminals and access – to be complete by around 2050.
_____________________________________________________
Third Runway at Heathrow First Proposed 29 Years Ago
1990: The Runway Capacity study says expanding Heathrow would "afford the greatest benefits"
2003: Government paper on future of air transport recommends third runway at Heathrow
2007: Heathrow expansion plans published – include third runway and sixth terminal
2010: Conservative-Lib Dem coalition rules out new runways at London airports
2015: Airports Commission recommends third runway at Heathrow
2018: House of Commons votes in favour of runway plans
2019: Public consultation begins
_____________________________________________________
Local and environmental groups have argued that expanding Heathrow and building a third runway would mean unacceptable levels of noise and pollution, as well as adding to the UK's carbon emissions from the increased number of flights.
In response to those criticisms, the plan also outlines a new low-emission zone for the airport, meaning additional charges for those who drive a more polluting vehicle to the airport.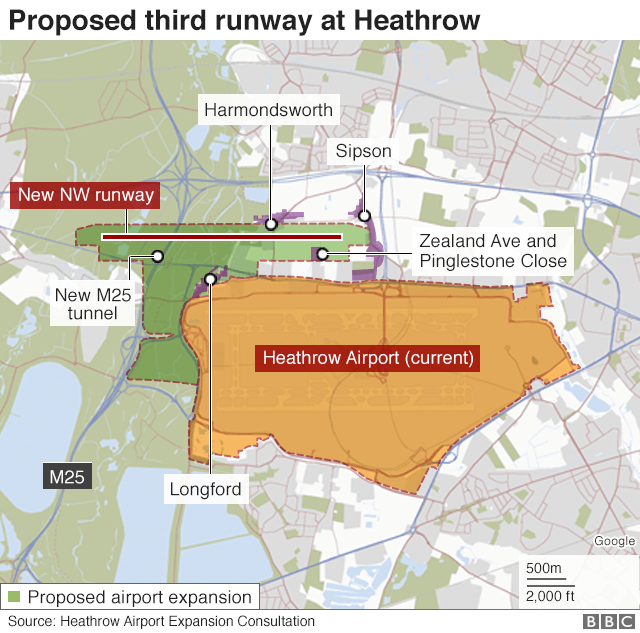 Heathrow says it is pursuing better public transport links and is proposing a longer respite at night, providing local communities with six-and-a-half undisturbed hours without a flight. "We have been working with partners at the airport, in local communities and in government to ensure our plans show how we can grow sustainably and responsibly – with environmental considerations at the heart of expansion," said Emma Gilthorpe, Heathrow's executive director for expansion. The plan also gives details of the proposed compensation scheme for people whose houses will have to be demolished to make way for the expansion. In all, 761 homes are expected to go, including the entire village of Longford.
Heathrow says it will pay the full market value plus 25% for properties in its compulsory purchase zone, as well as for some houses in the surrounding areas.