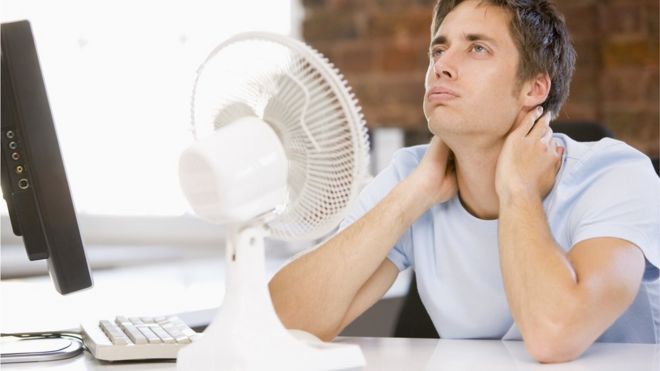 Employers should allow staff to work flexibly and have a relaxed dress code during this week's UK heatwave, the Trades Union Congress (TUC) has said.
Temperatures are set to top 35C and TUC general secretary Frances O'Grady said: "It's in bosses' interests to provide a cool and comfortable work environment."
The TUC wants people to be able to travel at different times or work from home and wear more casual clothing.
It adds staff should have breaks often and cold drinks should be available.
Ms O'Grady added: "While many of us love to see the sun, it's no fun working in a baking office or a stifling factory.
"Bosses should do all they can to keep the temperature down. Nobody should be made to suffer in the heat for the sake of keeping up appearances.
"Workers who are unable to dress down in lighter clothing, or who work in offices without air-conditioning, fans or drinking water, are going to be tired, and lack inspiration and creativity."
There are no laws in the UK about when it is too hot to work, but the TUC would like that to change.
It wants the introduction of a new maximum indoor temperature, set at 30 degrees – or 27 degrees for those doing strenuous jobs – with employers obliged to adopt cooling measures when the workplace temperature hits 24 degrees.
Fitting in with your peers
Despite the TUC's call for staff to be allowed to dress more casually, is this practical in all workplaces?
It very much depends on the organisation where you work, says H&M Group behavioural psychologist Prof Carolyn Mair.
Vest tops and skimpy dresses may be fine for more progressive industries such as technology, but not appropriate for traditional financial services firms, she says.
People wear certain clothes as a way of fitting in with their peers, and as a way of signalling that they identify with the aims of colleagues, she says.
"What we wear is very much a part of our identity," Ms Mair says. "It's a way of saying: 'We expect you to behave in a certain way.'"
But dress codes can be seen as a form of social control, she says.
"The idea is to create uniform behaviour, as well as a uniform look."
That kind of flexibility isn't always possible, says employment lawyer Vanessa Bell, a partner at Prettys Solicitors.
She warns that health and safety always comes first, pointing out that a building site, for example, is likely to insist on protective footwear.
An office is more flexible, but she warns that "employees need to be aware of the dress code or they risk being disciplined".
Full article here.