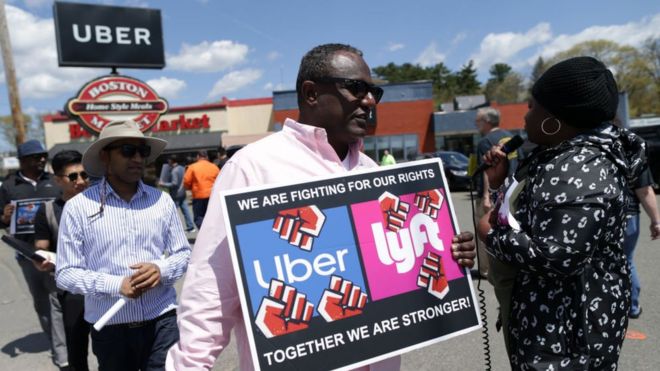 Assembly Bill 5, as its known, will affect firms like Uber and Lyft, which are based in California and depend on those working in the gig economy.Some estimates suggest costs for those firms would increase by 30% if they have to treat workers as employees.
But opponents of the bill say it will hurt those people who want to work flexible hours.If it is signed into law, the bill will change how employees are treated in the gig-economy, which has been a cornerstone of the model adopted by ride-hailing firms and food delivery apps.But California state senator Maria Elena Durazo said underpaying workers wasn't innovative.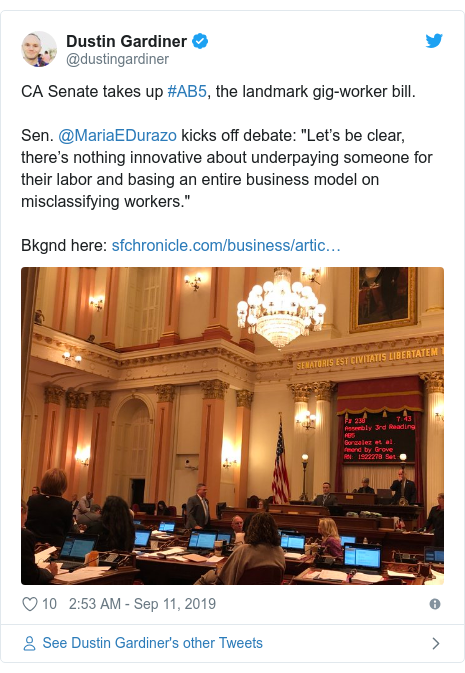 Assembly Bill 5 would put into law a decision by the state's supreme court last year. Then, judges ruled that workers should be considered employees under state law if they are integral to a company's business or it tells them what to do.
US democratic presidential hopefuls Elizabeth Warren, Bernie Sanders and Kamala Harris have all come out in support of the bill, which is backed by California governor Gavin Newsom, whose signature is required to turn it into law.
But Uber and Lyft have both proposed a referendum on the decision. In a statement after the bill was passed, Lyft said: "We are fully prepared to take this issue to the voters of California to preserve the freedom and access drivers and riders want and need."
It's not just tech firms that are worried about the proposed change in law. Typically, California has led the way in introducing legislation that is adopted elsewhere in the US, and that has worried the Western States Trucking Association, which represents truck drivers, many of whom are temporary and freelance workers.
"People ought to be very concerned because what happens here does tend to get copied in other states," the group's director of governmental affairs, Joseph Rajkovacz, told Reuters.
California has previously imposed tighter rules on vehicle emissions, which have been adopted in a number of other states.
In the UK, Uber lost its bid to convince the Court of Appeal that its workers weren't staff. It asked the court to overturn an employment tribunal decision that Uber drivers be treated as workers rather than self-employed.
The tribunal ruled that two drivers were staff and entitled to holiday pay, paid rest breaks and the minimum wage.