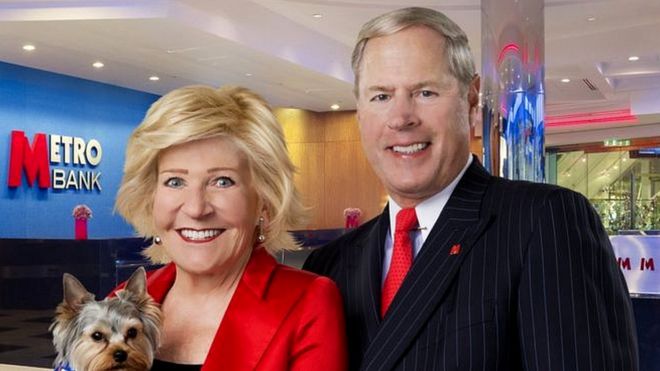 Metro Bank has announced that its controversial chairman and co-founder Vernon Hill will leave the embattled lender by the end of the year.
The bank said in July that Mr Hill would be stepping down as chairman but had initially said he would stay on as a non-executive director and president. His departure was announced after last week's share price crash when it abandoned plans to raise £250m. But those fundraising plans were revived on Wednesday.
The bank confirmed it had raised £350m in the bond markets. It is more than the original plan but Metro Bank has offering better terms to attract investors. Its share price soared by 22% in afternoon trade.
The fundraising comes as the bank remains under pressure since revealing a £900m accounting error at the beginning of the year.
The lender has already begun searching for Mr Hill's replacement, which it said was "progressing well". It added that if it does not find a new chair by the time Mr Hill is scheduled to leave, it will appoint one of its non-executive directors to the role on an interim basis.
In January, Metro Bank disclosed it had misclassified loans that it made to companies and landlords.
The Bank of England's regulatory arm and the Financial Conduct Authority, the City watchdog, both began investigations into Metro Bank. Since then, its profits have fallen sharply after customers withdrew £2bn worth of deposits over the six months to June.
The lender subsequently admitted in the prospectus for its now failed £250m debt issue that both probes had been expanded to include senior members of management and warned that they could lead to "criminal and/or civil liability for the bank".
It also said that "making redress, and the cost of any regulatory sanctions may involve significant expense".