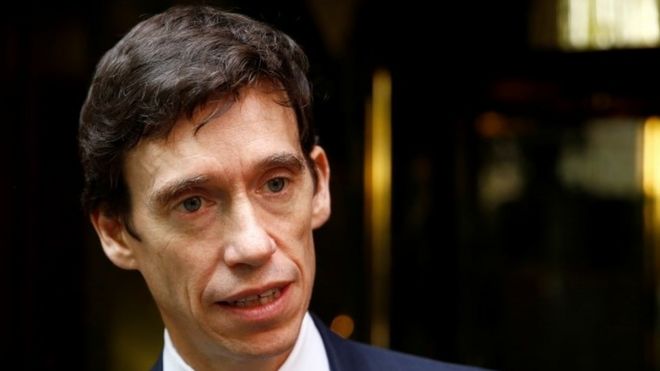 Former Conservative leadership candidate Rory Stewart is quitting as an MP to run for London mayor as an independent candidate.
He will stand in next year's election against current Labour mayor Sadiq Khan and Tory candidate Shaun Bailey.
Mr Stewart tweeted it had been a "great privilege" to serve Penrith and The Border for the last ten years.
He was expelled from the Tories in the Commons with 20 other Brexit rebels, but remained a member of the party. Mr Stewart announced his intention to stand for London mayor in a video on Twitter, saying: "I'm leaving that gothic shouting chamber of Westminster.
"I'm getting away from a politics which makes me sometimes feel as though Trump has never left London and I want to walk through every borough of this great city to get back to us on the ground." It comes after his announcement that he was stepping down as an MP and quitting the Conservative Party earlier.
Writing for his local newspaper, the Cumberland and Westmorland Herald, he said: "As you will be aware, I am no longer allowed to run as Conservative MP in Penrith and The Border.
"Because I have loved the constituency so much, I had considered standing as an Independent; but I have decided that I wouldn't want to run against those Conservative members who have been such wonderful colleagues over the last 10 years."
In his newspaper column, he said he was "hugely grateful" for the support he had received from members of his local party, but added: "It should be no secret that there are also local party members who would rather I did not run again."
'Great shame'
Robert Craig, president of the Penrith and The Border Conservative Association, said Mr Stewart may not have resigned if he had not had the whip removed by the prime minister.
"It's a great shame and it is not unexpected given he is still out in the wilderness with the whip removed," he said.
"I suppose had that changed… it seems to have become clear that that wasn't going to change and he has other ambitions." He praised Mr Stewart as an "inspirational" MP who had attracted a broad church of followers, and criticised Mr Johnson for taking the party in an "extreme" direction.
Who were the Conservative Brexit rebels?
Prime Minister Boris Johnson expelled 21 MPs from the Parliamentary party at the start of September after they rebelled against him in a bid to prevent a no-deal Brexit.
Some long-serving figures – such as Ken Clarke and Sir Nicholas Soames – are planning to stand down at the next election, while others, such as former Chancellor Philip Hammond and former attorney general Dominic Grieve – are reported to be considering standing as independents.